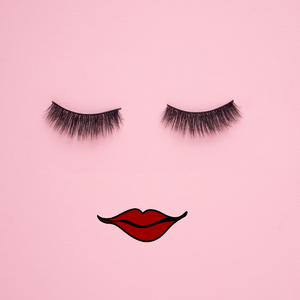 Are Magnetic Lashes Safe?
Are Magnetic Lashes Safe?
Maybe you have heard about Magnetic Lashes on social media or seen them at the local drugstore. Magnetic Lashes are designed in several styles with small magnets that help the Strip Lashes stick to your eyelid. Magnetic Lashes and Magnetic Eyeliner are not entirely risk-free, especially if you misuse them. It doesn't matter what sort of False Lashes you are using; If its Glue on Lashes or Magnetic Lashes. Every Lash requires techniques to use them.
There are two ways to use Magnetic Lashes; you can attach by using two magnetic strips on both sides of your original Natural Lashes, or you can apply Magnetic Eyeliner and then place a Magnetic Lash on your eyelid. But will Magnetic Lashes break? And, importantly, is it safe to wear a magnet near your eyes? So keep scrolling to read and learn about Magnetic Eyeliner Lashes; they are safe or not, and how to apply them securely.

How do Magnetic Eyeliner Lashes Work?

Magnetic Lashes are safe and so easy to apply. They don't create any problems with your eyelid skin and don't interfere with your eyes' movement or your vision. Our Magnetic Eyeliner Lashes offer you long and luscious Lashes without pain. 

Magnetic Eyeliner Ingredients
Aqua, Acrylates / Octylacrylamide Copolymer, Propylene Glycol, Ethylhexyl Glycerin, Butylene Glycol, PEG-3 Sorbitan Oleate, Streareth-21, Dimethicone, PVP, Sorbitan Sesquioleate, BHT, Lodopropynyl, Butycarbamate, Chlorphenesin, Phenoxyethanol, Fragrance, C177266, D&C Black No 2, C177499, Black Oxide of Iron
NEVER TESTED ON ANIMALS!
Faux Mink Lashes
Our Magnetic Lashes are made of synthetic fibres and contain micromagnets that stick together without Lashes Glue and remain stable on the lash line. After applying them, your Magnetic Lashes are like sandwiches, your Natural Lashes are between two magnetic strips. Make sure your eyes and hands are dry and clean before applying Magnetic Lashes to avoid infections.


Is Magnetic Eyeliner Safe?

Magnetic Eyeliner is created in the form of a Liquid Liner to stick Magnetic Lashes on your eyelid to remain in place. Magnetic Eyelashes are safer than other Glue on Lashes and won't harm your eyes and hair follicles if you know how to use them. But they also have side effects; it's required to apply the Magnetic Eyeliner at the lash line and make sure the liner doesn't get in your eye or block the oil glands in your eyelid. Please do not apply when moving so that you don't unintentionally poke yourself in the eye!. It is not difficult to remove Magnetic Eyeliner; you can use an oil-based makeup remover, wipe the Magnetic Eyeliner with a napkin, tissue or Babywipe or alternivelty use our Magic Cloth Makeup Remover


Ingredients

Magnetic eyeliners have FDA-approved ingredients that are called iron oxides that are contained in so many cosmetics. Iron oxides are pigment-containing minerals that are small enough not to cause any significant health risks.

Conclusion

Magnetic Lashes with Liner is safe and easy to use; you need to know how to apply on the eyelids appropriately. It's essential to learn the proper way to use Magnetic Eyeliner Lashes because every eye-related product is not entirely risk-free and can damage your eyes due to misuse. Call a doctor if you develop allergic reactions or signs of infection after using these products.