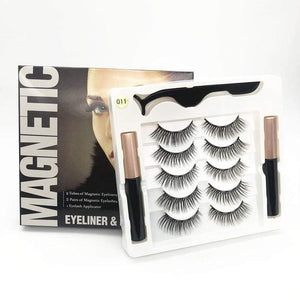 Vegan Magnetic Eyelashes Kit - Laura's Lashes

False Lashes require lash glue, which can be uncomfortable and even painful if you're sensitive to the chemicals used in lash glue. Magnetic eyeliner requires no glue at all, so your lashes are comfortable and cruelty-free with no risk of allergic reaction. They are quick and easy to apply with one simple click! Plus, our magnetic eyeliner's vegan ingredients means there's nothing to worry about when removing the magnetic eyeliner at night! Say goodbye to painful lash glue and say hello to magnetic lashes with Laura's Lashes Magnetic Eyelashes Kit today!
The problem with Lash Glue
Not only does eyelash lash glue irritate eyes, it can also be messy. The lash glue itself often shows through, creating an itchy, white residue on your eyelids. Magnetic eyeliner is a great alternative: It adheres without irritating eyes and looks like regular liquid eyeliner. Plus, magnetic eyeliners are mess-free and you don't need any special skill to apply! Simply draw a line on your lash line and voila—instant gorgeous lashes that last all day long!
How does our magnetic eyelashes kit work?
How do magnetic eyelashes work? The first step is pretty easy: open the box, choose your favourite pair and apply the eyeliner to your lash line. Then, before you attach the magnet lash, bring the lash closer to eye so that it grabs onto the liner, holding it in place. Attach the lash and finish! Voilà! Magnetic eyelashes that look as natural as they feel. (oh-and-no-glue)
The best part about our product
Our Magnetic Eyelashes can be used for up to 30 days a pair, saving you money in comparison to lash glue. Magnetic eyeliners and lashes are cruelty-free; we don't sell or use mink lashes, or any animal product so it won't hurt anyone. Magnetic eyeliner is vegan friendly; it doesn't need ingredients that might come from animals. We have put our all into creating a reusable vegan magnetic eyeliner, we hope you love it!
What are the options available for use?
Our Magnetic Eyelashes Kit is not just for special occasions, they can be worn daily. It's a great option for those who want to wear makeup without messing with glue, and because they are magnetic, it gives you easy access to your eyeshadow or liner if you decide to go bolder with your make-up on date night or if you go out with friends after work. Say goodbye to painful lash glue and say hello to magnetic lashes. Magnetic eyeliner that connects easily without any glue required.
What should I expect from my order?
We always endeavour to dispatch all orders received before 3pm on a working day. Our UK Warehouse is based in London and deliveries can be expected to take 1-7 working days from dispatch via Royal Mail. You will receive an email with a tracking number so you can monitor your order as it travels to you.
So what are you waiting for?